Dead by Daylight Mobile X Ringu collaboration launches on October 27th! Will Sadako's curse succeed in hunting down players!?
2022-10-22
From October 27 to November 9, 2022, Dead by Daylight Mobile, a 4v1 multiplayer horror and action game distributed for smartphones by NetEase Games, will hold a collaborative event with Sadako, the vengeful spirit from the Japanese horror novel Ringu and the original film adaptation.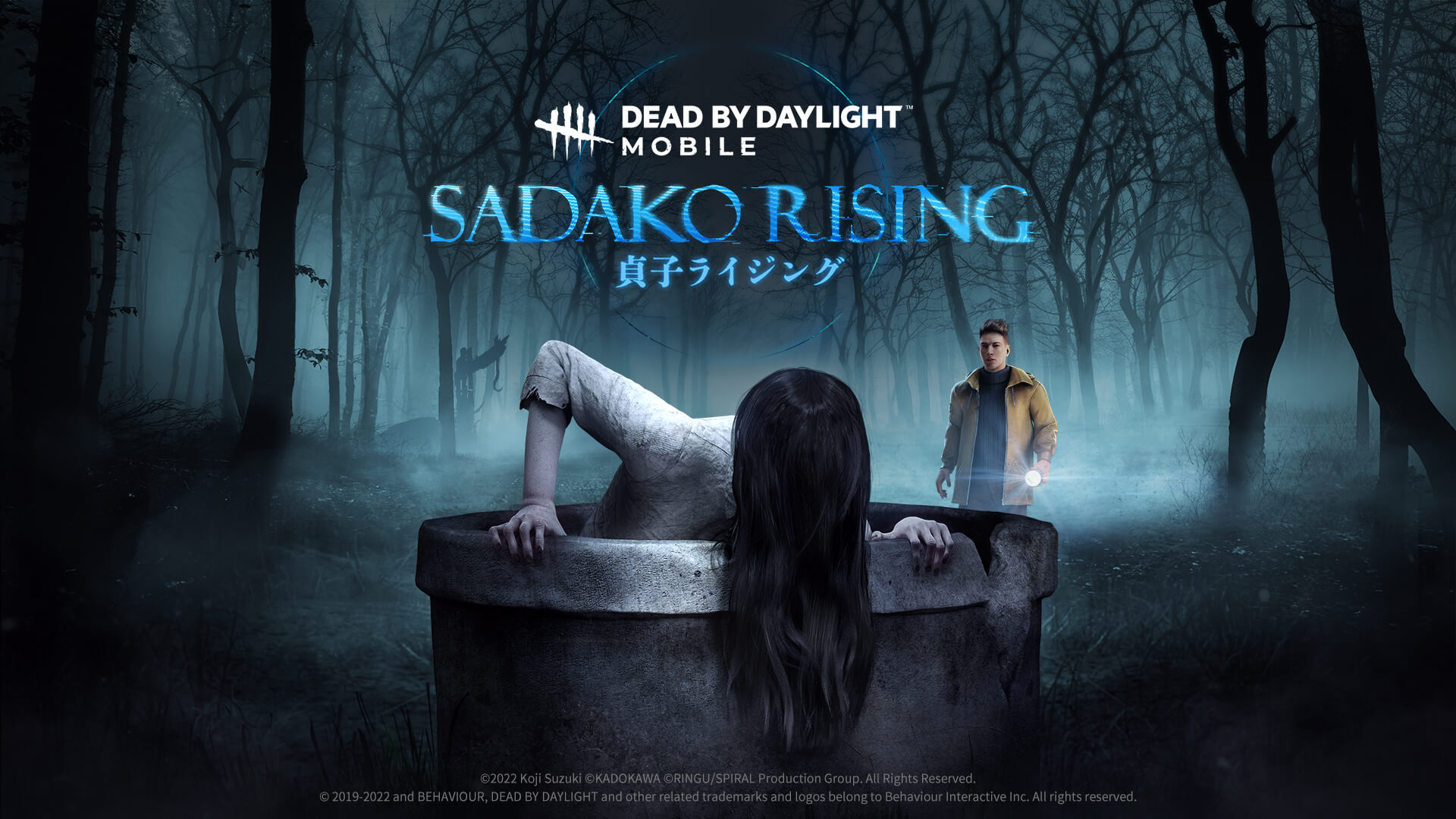 Sadako joins Dead by Daylight Mobile!
Sadako's curse has finally spread to Dead by Daylight Mobile. She joins as a new Killer, giving Survivors jump scares they'll soon not forget.
As a ruthless Killer, Sadako can move stealthily and instantly approach the locations of Survivors. Additionally, she can teleport through locations where TVs are set up on the map, allowing her to maneuver like the vengeful ghost she is.
Yoichi Asakawa, from the same series, will be added as a Survivor. As a character that uses his knowledge and abilities to protect himself and others, he has unique perks, such as being able to support injured allies, stun killers, and increase Survivors' movement speed, making it easier for him to escape from Killers.
Exclusive Sadako and Yoichi Asakawa Outfits, the "Sleeping Blossom," and "Paranormal Investigator" will be available! Sadako's platinum Outfit of "Sleeping Blossom" allows you to enjoy a new memento mori animation different from Sadako's usual one.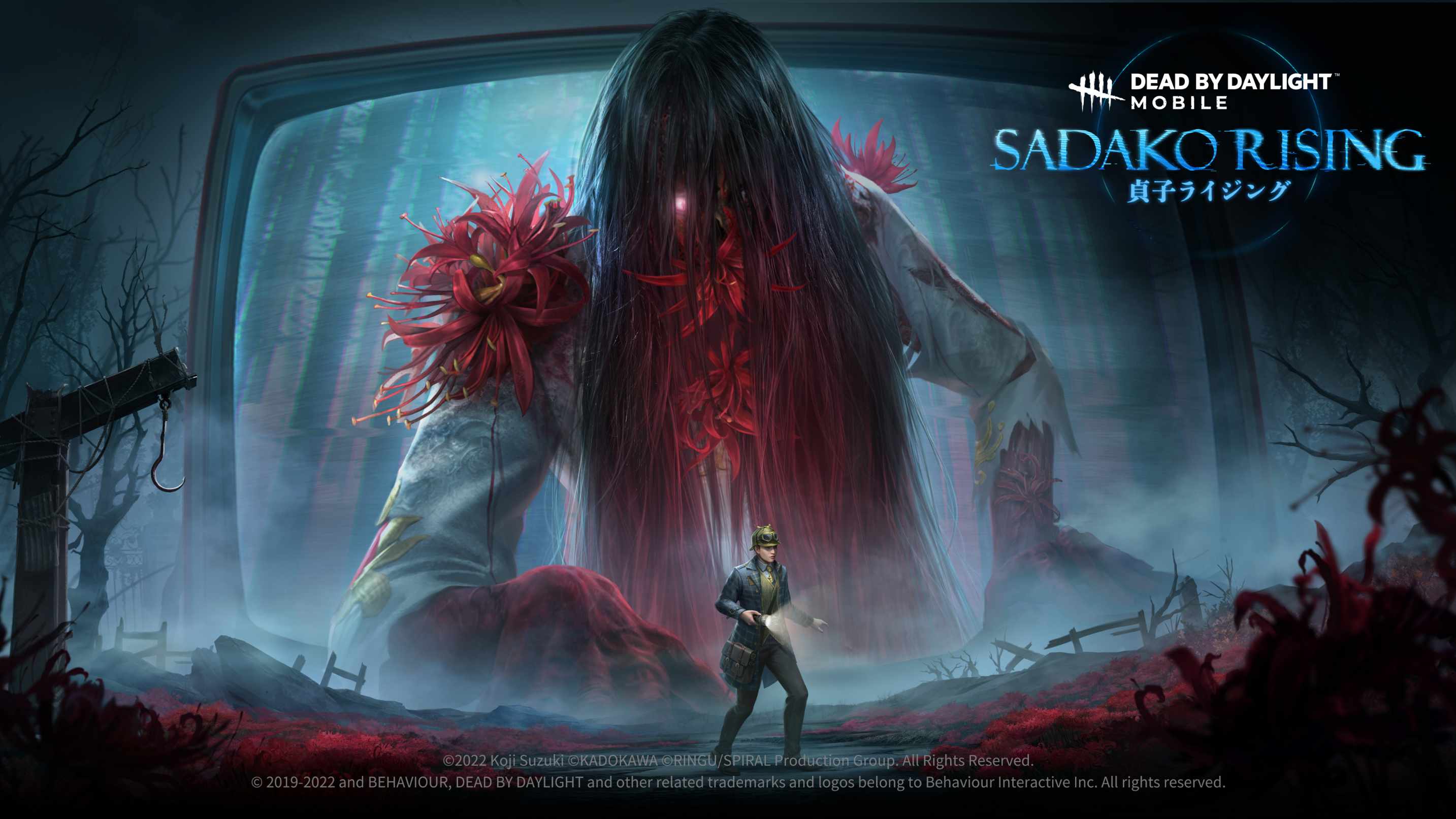 Spread the cursed video and earn collaboration rewards!
Sadako's curse has been spread to Dead by Daylight Mobile. There are already more than 700,000 people who joined the investigation. People can unlock the collaboration information and get rewards including [Portrait] The Onryō in-game which is limited to the official website investigation event: https://www.dbdmobile-sea.com/rising-pre/
The appearance of Sadako brings a curse upon many players in Dead by Daylight Mobile. Sadako's curse can be broken by sharing the cursed video with others, and at the same time, you can get exclusive rewards. Among them, there is also a in-game Sadako Crossover Torso limited to Spread the VHS Tape Event: https://www.dbdmobile-sea.com/sns/sadakotape/
Numerous collaborative limited-time events within the game have been prepared, and by completing tasks, you can receive awards such as [Portrait] The Onryō, Portrait Frame: The Onryō, Sadako Crossover Torso and Sinister stones. Also, if you invite friends to Dead by Daylight Mobile during the collaborative event, you will receive a Sadako Crossover Torso! Please join in the fun!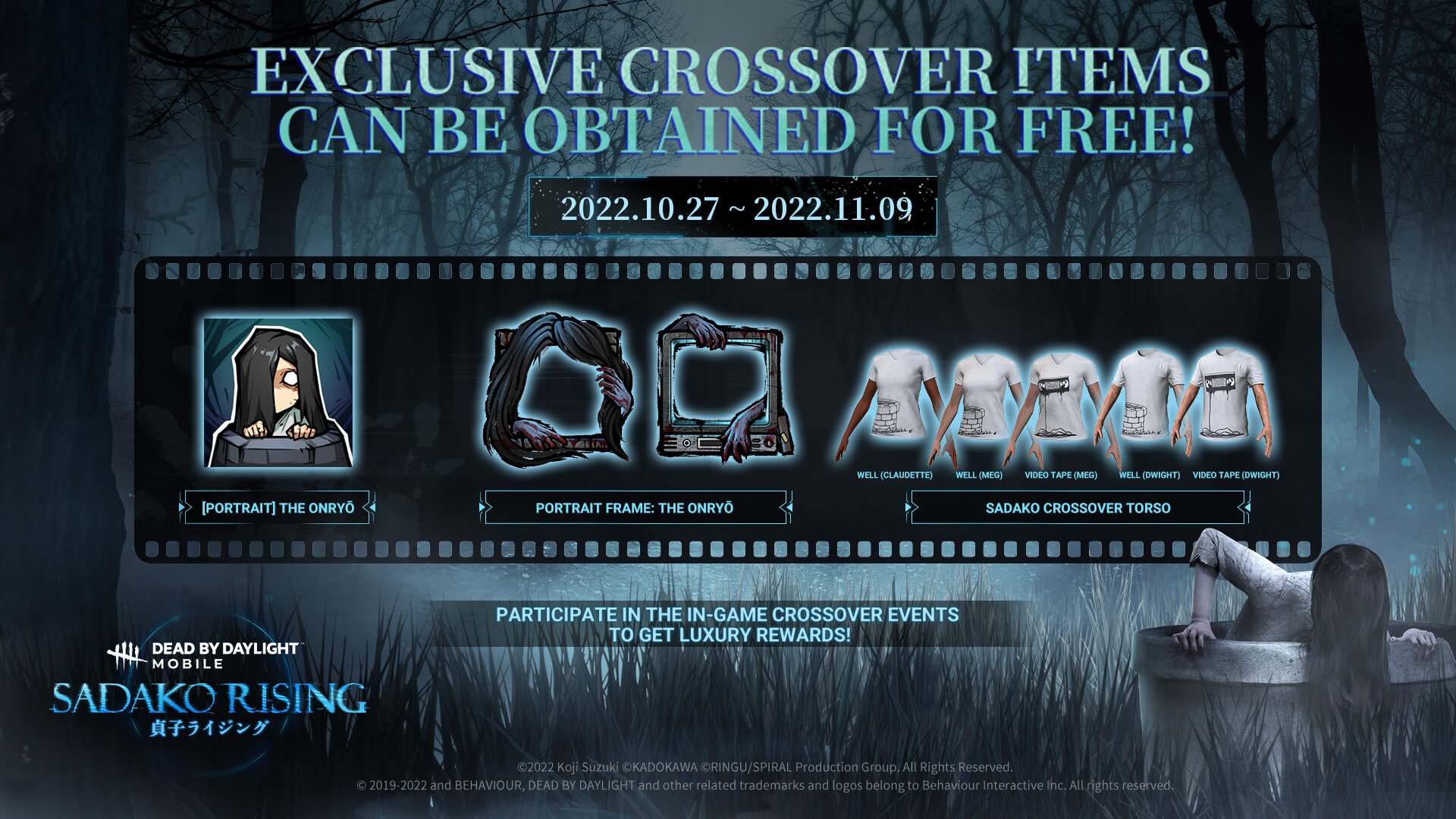 Official website investigation event: https://www.dbdmobile-sea.com/rising-pre/
Spread the VHS Tape Event: https://www.dbdmobile-sea.com/sns/sadakotape/
Official site: https://www.dbdmobile.jp/
Official Twitter: https://twitter.com/DbDMobile_JP
Official LINE: https://page.line.me/497dhbpb?openQrModal=true
About Dead by Daylight™ Mobile
Dead by Daylight™ Mobile is designed exclusively for mobile with intuitive controls and carefully crafted experiences based on the fan-favorite asymmetrical multiplayer horror IP from Behaviour™ Interactive. In Dead by Daylight Mobile, players both hunt and are hunted by one another in terrifying maps reminiscent of cult classic horror environments. The game has reached more than 28 million downloads worldwide on iOS and Android since launch in April 2020. For more information, please visit https://mobile.deadbydaylight.com
About NetEase Games
NetEase Games is the online games division of NetEase, Inc. (NASDAQ: NTES and HKEX: 9999), developing and operating some of the most popular mobile and PC games in markets including China and Japan. As one of the world's largest incubators of quality online game content, NetEase Games is dedicated to supporting the growth of innovative studios around the globe and growing an international presence along the way. To complement its self-developed games and world-class R&D capabilities, NetEase Games also partners with other industry leaders including Blizzard Entertainment, Mojang AB (a Microsoft subsidiary) and other global game developers to operate some of the most popular international online games in China. For more information, please visit neteasegames.com.
About Behaviour™ Interactive
Celebrating its 30th year, and with more than 1,000 full-time employees, the studio has enjoyed immense success with its original IP Dead by Daylight, which now has more than 50 million players around the world and across all platforms. Behaviour holds co-developer credits for some of the gaming industry's largest titles (such as Assassin's Creed, Gears 5, Call of Duty and Tony Hawk Pro Skater 1 & 2) and developed an unparalleled, award-winning culture within the gaming industry. Winner of Deloitte Canada's Enterprise Fast 15 and Best Managed Company awards and listed as one of the Best Places To Work – Canada by GamesIndustry.biz in 2021, Behaviour is a leading development studio, cultivating career growth and talent development within the gaming industry. Behaviour counts among its partners some of the world's most renowned brands, including Microsoft, Sony, EA, Warner, 2K and many more. For more information, visit www.bhvr.com.
About Kadokawa Corporation
Kadokawa Corporation develops a broad range of businesses as a comprehensive entertainment company, including publishing, video, game, Web service, education, MD and business for inbound customers. The company also advances digital transformation, including Activity Based Working (ABW), and a global media mix strategy, which focuses on steadily creating intellectual property (IP) and expanding overseas.
© 2019-2022 BEHAVIOUR, DEAD BY DAYLIGHT and other related trademarks and logos belong to Behaviour Interactive Inc. All rights reserved.
© 2022 Koji Suzuki © KADOKAWA © RINGU/SPIRAL Production Group. All Rights Reserved.